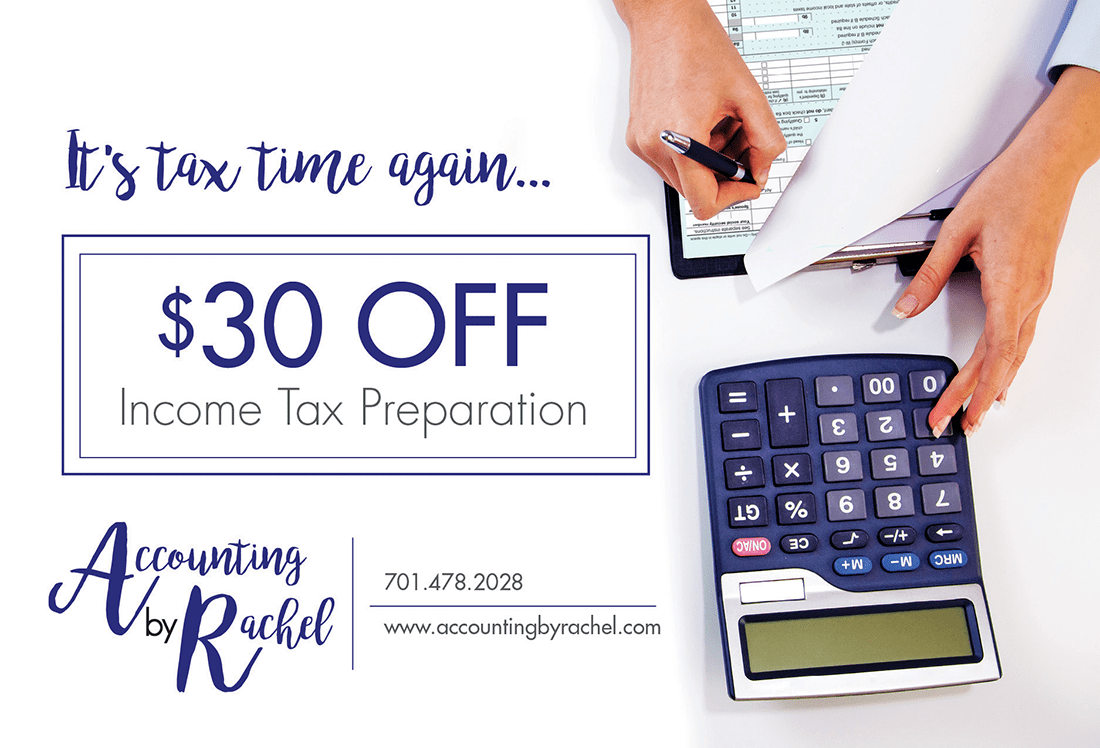 Are you getting all the deductions you deserve?
Are you spending hours trying to understand tax forms and new tax laws?
There is help!
Filing income taxes does not have to be a scary unpleasant experience.
Call for an appointment.
Phone: 701-478-2028
Email us on our Contact Page
PROFESSIONAL ACCOUNTING & TAX PREPARATION
Rachel Schmidt of Accounting by Rachel offers you nearly two decades of accounting experience.  So, whether you are just starting your business or have an established business that needs a hand with accounting, Rachel has the knowledge & background to step in to give you a hand.
Rachel knows her stuff! I really appreciate her willingness to jump in and help in any situation! She is extremely talented! Need help....just ask! Thanks...
Rachel was great to work with. She provided quality advice, quick service and was very professional.
Tasha Barrett
3 years ago
Rachel is very knowledgeable and is able to adjust her services to fit individual needs. I highly recommend her.
Rachel does a great job on taking care of the needs of business owners for the Taxes and accounting needs.
Jeffrey Carney
3 years ago
Rachel has been a great help. She personalizes the services to fit my needs.
Save Time. Save Money. Hire A Professional.
Save Time.
Save Money.
Hire A Professional.
"Rachel has been great to work with.
Always answers her phone, and ready to answer questions."
Accounting By Rachel is a Fargo, ND based accounting firm that serves small businesses and individuals with bookkeeping, payroll, business tax returns, individual tax returns and many other accounting services.